Credit and Debt in the EU
I have arranged the information from Wikipedia (please make a donation!) on the debt figures in Europe. One can draw a Middle Border across Europe. The northern portion of Europe consists of Rhineland and Baltis as creditor lands, flanked by Atlantis and NorthEastland as debtor lands. Still as a whole, the North holds a credit position of about 1.7 Trillion Euro's. The Southern portion of Europe is Debtor land, totalling to -3.4 Trillon of debt. So, in total Europe is in debt (- 1.7 Trillion Euro). But look at the USA! - 5.4 Trillion Dollars of debt position! What do the US do when for example Ohio cannot pay its debt services? Will they push Ohio out of the Dollar Union? NO!
One tool that the US have is the Federal Bond. Why can the ECB not issue EU-bonds?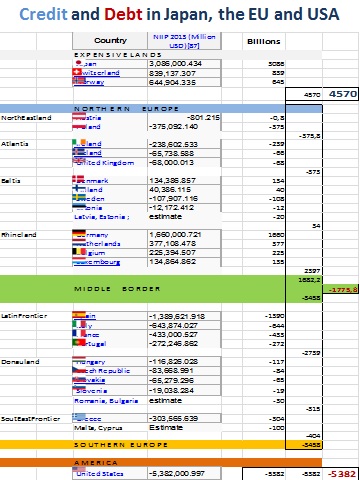 JETSA
One of the concepts that I have proposed in Plan C for Greece is the Joint Ellas Trust for State Assets (JETSA). The idea is that the assets of Greece, like the airports and the harbours are placed in this trust. Not so much with the meaning of privatisation, but in order to manage these companies so they can help reduce the debt position. Suppose that JETSA adopts 70% of the Greek debt, so that burden is off the shoulders of the Government.
JETSA is owned by Greece and the EU-creditors. Mangement and control becomes more transparant to the European creditors. In case the ECB and the EU-creditors are reluctant to take the whole share of Greeces debt taken by JETSA, then other partners can be invited. For example Japan can participate. Since repayment of the debts is still a considerable risk, by participating Japan kind of buys a bit of inflation. And that is what Japan needs.